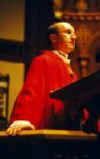 Also Officiating:
The Rev. Victor Thomas
The Rev. Mary Martha (Molly) Solbak
Organist:
Soloist:
Rebecca Achenbach
Solo:
Hovhaness: As the Wings of Doves
Readings:
What a remarkable life we celebrate this morning. When I first spent time with Mary not long after my arrival in Lancaster, she found in me a willing listener of all her tales of Africa. I was raised in part in the post-colonial Commonwealth, and those of us who lived in the countries of the former British Empire in those formative years when these countries were beginning their independence have a certain bond. They were countries often of a great and wonderful mixture of humanity, where races and cultures have mingled for generations, and there is a magic about them in the memory.

Mary loved Africa. And she loved it even though she knew those parts of it that were not so lovable and had experience of the difficulties of life there especially as British rule was coming to an end. Her stories of the Mau Mau Uprising made even what little hair I do have stand right up on end.

But the secret of Mary's life, I think, is that Mary was never a mere observer or consumer. Mary was in the thick of things wherever she was, and she gave unremittingly of herself wherever she lived and worked. She had a strong will tempered by discipline, and it was perfectly in character for her to have spent her energy as a young woman acquiring the training she would need as a Public Health nurse. She did not marry her husband, Alf, until she was 37. By then she had already had considerable experience both in this country and abroad.

However, Mary's spirit of independence did not blind her to needs around her, and she was always unhesitatingly generous to others. Indeed she scrimped on herself, but that only seemed to deepen her generosity. Those of us who knew her here in Lancaster were drawn to her instinctively, and I admired in her that sensitivity to the world and to human beings that often characterizes those who have lived about a bit, who know the world and the funny people who inhabit it, and who love it all the same. Mary's sense of humour was founded upon that same knowledge and experience.

These last years were something of a trial for Mary as she face the increasing debility of her declining health. That is especially hard for one like Mary, who all her life had been able to travel, work, and be productive. When I would come to tea, she was a little embarrassed that I had to manage the cooker and the kettle because her eyesight was poor and she was not so steady on her pins. But she would not sit still and let me do it all. She had to be right there with me in her little kitchen, even though we hardly fit, helping as she could. And everything had to be "just right." I appreciated that, and I loved the opening of the article that was written about Mary almost a decade ago, when it said that although she could cope with revolutions and world wars, she really could not cope with the idea of eating dinner as early as 6 o'clock in the evening!

We had long conversations about her church attendance. She loved to come here, and I encouraged her to do so even after it had become quite difficult for her, because I knew that she did not want to give up, really. But she hated to be a burden to those who brought her – even though she wasn't – and that was typical of her sensitivity. We were all a little sad when she faced inevitable confinement.

But even as she weakened, there was a certain dignity about her, and she was always happy to see anyone who came to visit. You had to speak up, and it was hard for her to see. But once she knew who you were, her face would brighten up like a flower opening in the warmth of the early morning sun. She particularly enjoyed Steve Purdy's regular visits with Holy Communion and her friendship with Joe and Alice Richardson that spanned many years and two continents.

Now our friendship with Mary spans heaven and earth. As we pray for her today, so she prays for us. United now with her Saviour, she feasts in God's kingdom with her beloved Alf, and Vera, the stepdaughter whom she raised as one of her own and who died not many years ago. It is always hard to say goodbye, and with Mary's death there passes from among us a part of our world that she knew and loved – a part of our world that was beautiful, exciting, and full of wonder.

Mary now beholds the Sunrise of wonder, where a clearer light than ours makes her vision perfect and her knowledge complete. We give her back with love and gratitude to the God who gave her to us to us as a member of our family and as a companion on our earthly pilgrimage.

Mary's daughter, Mary Lynn, asked me to read these words from Thanatopsis by William Cullen Bryant:
So live that when thy summons comes to join
The innumerable caravan that moves
To that mysterious realm, where each shall take
His chamber in the silent halls of death,
Thou go not, like the quarry slave at night,
Scourged to his dungeon, but, sustained and soothed
By an unfaltering trust, approach thy grave
Like one who wraps the drapering of his couch
About him, and lies down to pleasant dreams.
With "unfaltering trust" do we bear Mary to her rest today. But I have a suspicion that if heaven is nothing but rest, Mary will soon grow impatient, and have no qualms about making her impatience known. Mary was never still for very long in her earthly life, and I imagine her heavenly life to be characterized by the same fullness and joy, but transfigured now by the pure Vision of God.
And I hope, for God's sake, that, when God brings Mary to the feast at which we shall all one day be united, he is very careful to organize her arrival at a proper time of the evening.
May Mary rest in peace, and rise in glory.
Amen.
---